Swimming
Swimming lessons teach children the skills of diving and swimming with various strokes, and let them enjoy water-based games. These lessons not only help with physical development and health, but also give children self-confidence and build willpower and character.

Class Schedule



Class is closed at this time.
Teacher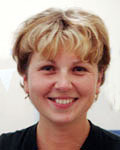 Natalia Abel
From the age of 6 to the age of 15, Natasha was a swimmer at the School for the Olympic Reserves at the Navy Sports Club in St. Petersburg. She received the title of Master of Sports Candidate, and was a frequent winner of inter- and intra-city competitions. In 1994, Natasha completed Pediatric Institute, and began work as an intensive therapy nurse. She lived in New York from 1996 to 2003, after immigrating to the US with her family, and moved to Denver in 2004. She has taught at the Center since 2005.